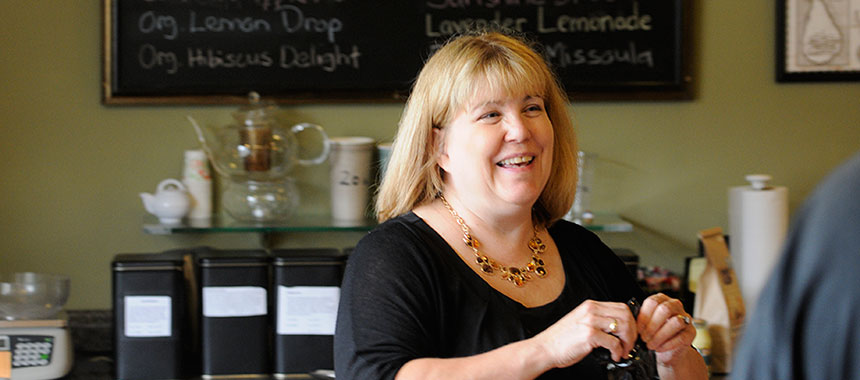 About Us
A Decade In The Making
About Danielle
Danielle Beaudette, proprietor of The Cozy Tea Cart, has been selling high quality teas and has researched the history of tea and tea wares for over a decade. She has a special interest in the history of tea and its ceremonies, and considers herself a student in her quest for knowledge on tea. She is continually doing research on tea in an effort to stay up to date with the current information and trends. As a Specialty Tea Institute member, Danielle receives regular industry reports and has access to a number of the tea industry's information sources.
Danielle is one of the first 15 individuals in the world to be certified in all levels as a Tea Specialist through the Specialty Tea Institute, NY and has completed over 60 tea seminars at the World Tea Expo. The invaluable information she has received from the seminars and tradesmen provides her with insights on the current trends of the tea industry, knowledge of the latest studies on the health benefits of tea and a better understanding of how to manage a tea business. She has researched and learned first-hand about the production of tea through her Asian tea travels and relationships with Chinese, Indian, Sri Lankan, Japanese, and Taiwanese tea growers.
Danielle sources only the finest, high quality, freshly imported teas, earning The Cozy Tea Cart the title of "Best of NH" from New Hampshire Magazine. Just as important as the quality of her tea, she promotes excellence in service and makes educating her customers about tea a priority.
About The Cozy Tea Cart
The Cozy Tea Cart expanded several years ago from a small retail tea shop into a more spacious building in a central location in Brookline, NH, that now includes a new café. The focus of the shop is the sale of high quality teas and tea accoutrements as well as unique specialty gift items. The Café serves breakfast and lunch on a daily basis, Monday through Saturday. Chef Sabine Berke makes all of the menu items from scratch, sourcing fresh produce from local farms. Hailing from Switzerland, she was trained in a European culinary school for four years and is constantly bringing new and exciting food to the menu.
One Sunday per month from September through June, The Cozy Tea Cart serves Afternoon Tea in the traditional Victorian manner. These events, each featuring a different themed menu, have limited capacity and fill up quickly, so be sure to make your reservations early!
The café space is available to rent for individuals who are interested in hosting their social club event, baby shower, bridal shower, birthday party, etc. It is also available to local businesses in the community who would like a special meeting place or who have a special service they would like to promote.
The uniqueness of The Cozy Tea Cart is that we not only provide excellent service, but will also help to educate those with a fondness for tea through lectures, brochures, tea tastings, and one-on-one discussions. We are a proud member of the American Specialty Tea Institute, a division of the Tea Association of the U.S.A. This non-profit organization is dedicated to educating and serving the needs of purveyors in the specialty tea industry. Learn more at www.teausa.com.
We offer our customers a comfortable place to take a respite from their hurried lives. We strive to provide the highest quality products at reasonable prices. Come visit us and indulge yourself in a cup of comfort!
Contact Us
Phone: 603-249-9111
Email: danielle@thecozyteacart.com
Contact webmaster
Directions
Print Directions
Directions on Google Maps
The Cozy Tea Cart would like to thank the following people for their professional work
in creating and editing our new web site:
Josh Deane, Technical Designer, Wayland, MA
Jeff Wilder, Technical Lead, Waltham, MA
Carol Cherian, Photographer and Content & Graphics Editor, Carol Cherian Designs, LLC Brookline, NH
Marina & Don MacIntosh, Turtles Way Photography, Mason, NH